-

$

45.32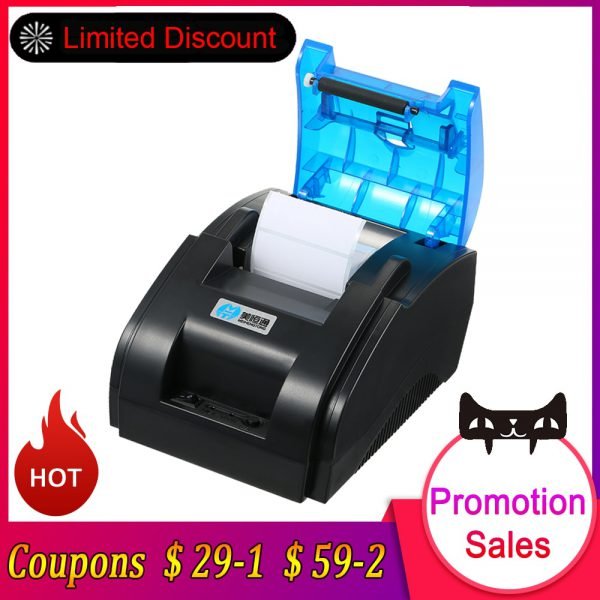 High BT Quality Printer Qr Code Sticker Barcode Thermal Adhesive Clothing Label Printer 58mm
Interface Type:

Bluetooth

Print Speed:

20ppm

Style:

Black And White

Supports Network Printing:

No

Max. Resolution:

203dpi

Color Print Speed:

As description

Internal Memory:

None

Voltage:

100-240V

Consumable Type:

Label Paper

Brand Name:

KKMOON

Paper Feed Mode:

Manual

Double-sided Printing:

Yes

Use:

Barcode Printer

Black Print Speed:

Up to 90mm/s

Model Number:

MHT-P58L

Size:

other

Max Paper Size:

As description

Type:

Thermal Label Printer

Code:

C5465
Availability:
2944 in stock
$133.29
2944 in stock
Compare
Description
This has provided the fastest, the most reliable and affordable way to print your labels or barcodes. Supports up to 8 devices(for Android or iOS) or 8 apps at the same time and offers printing speed up to 90mm/s. It is widely used in shopping malls, supermarkets, retailers, takeaway delivery, restaurants, and etc.
Features:
Environmentally Friendly: Print high-quality barcodes or labels without using any ink, quieter and more energy-saving.
Wide Compatibility: Support for iOS and Android devices with BT ability.
With intellectual property app which has mass field standard labels, you can edit the label at any time and any place.
Easy to Install: Open the cover and put the printed side downward.
Wide Application: Thermal label printer is compatible with all major selling or deliver platforms or stores.
It could support up to 8 devices or 8 apps at the same time.
Quality: Clear characteristic and tidy composing.
Specifications:
Printing Width: 58mm
Printing Speed: Up to 90mm/s
Printing Density: 384dot/s
Interface: USB + BT + Cash Box
Standby: 168 Hours
Voltage: 100-240V
Item Weight: 521g / 1.15LB
Package Weight: 764g / 1.68LB
Item Size: 17.3 * 12.6 * 11cm / 6.81 * 4.96 * 4.33in ?_?L * W * H?_?
Package Size: 18.5 * 18 * 13cm / 7.28 * 7.09 * 5.12in ?_?L * W * H)
Package List:
1 * Printer
1 * USB Cable
1 * Charging Cable
2 * Paper
1 * User Manual
PleasenotethatyoushouldinstallthedriveifyouconnecttheprintertothePC.AndchoosePOS-58modelafterthedrivehasinstalled.
However,italsoshouldbenoticedthatApplecomputersarenotabletoconnecttoprinterviaUSB.
Digital Coolegoo Service template