-

$

135.11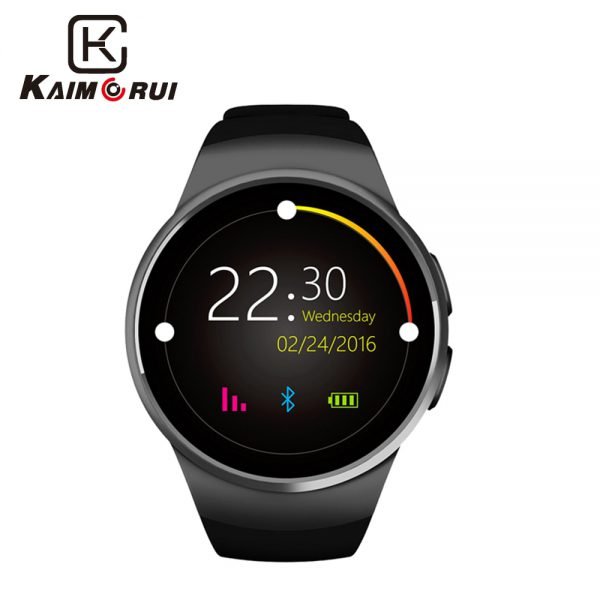 Kaimorui Smart Watch Men KW18 Passometer Monitor Heart Rate Phone watch SIM Card for IOS Android Bluetooth Watch Smart
GPS:

No

Function:

Noctilucent,Passometer,World Time,Sleep Tracker,Big Three Needles,Small Second,Heart Rate Tracker,Tourbillon,GMT Two Places,Permanent Calendar,24 hour instruction,Fitness Tracker,Message Reminder,Interactive Music,Calendar,Dial Call,Push Message,Alarm Clock,Remote Control,Month,Speed Measurement,Answer Call,Week,Call Reminder

Movement Type:

Electronic

Case Material:

Alloy

Waterproof Grade:

Not Waterproof

Language:

Portuguese,Spanish,English,Hebrew,German,Arabic,Indonesian,Polish,Russian,Italian,Dutch,French,Turkish

Screen Size:

1.3 Inch

Screen Shape:

Round

ROM:

<128MB

RAM:

<128MB

Band Detachable:

No

Network Mode:

2g

APP Download Available:

No

Application Age Group:

Adult

Band Material:

Silica Gel

Multiple Dials:

Yes

CPU Manufacturer:

Mediatek

Compatibility:

All Compatible

Battery Detachable:

No

Brand Name:

kaimorui

Battery Capacity:

300-450mAh

Type:

On Wrist

Resolution:

240*240 pixel

Rear Camera:

None

System:

Android Wear

Style:

Fashion

SIM Card Available:

Yes

CPU Model:

MTK2502C

Mechanism:

No

Smart Watch:

Smartwatches

Smart Watches:

Smart Watches

Smartwatch Sim:

Smartwatch Sim

entertainment:

MP3/MP4/Bluetooth music

screen:

touch screen

Heart Rate Tracker:

Heart Rate Tracker

Dial Call:

Dial Call

COLOR:

sliver/gold/black

Passometer:

Passometer

TF card:

support 16G tf card
Availability:
44 in stock
$250.22
44 in stock
Compare
Description
Bluetooth Smart Watch Support SIM TF Card Smartwatch Phone Heart Rate for apple gear s2 huawei xiaomi Smart Phone Watch
Main Features:
CPU MTK2502C, perfectly support both IOS and Android OS

Metal plating with anodic oxidation treatment for the finish, makes the watch uniform color and fastness.

Patent design for card slot, TF card and ISM card are two-in-one communication anytime anywhere

1.3 inch IPS LCD round screen

Separated watch case and watch bezel design, not one-off punching watch case, makes the watch more brilliant

2.5 D radian capacitive touch screen, OGS, no-air-gap, makes the watch wearing more comfortable

Magnetic usb charger, light and convenient

Soft and harmless watchband, the same materials to sex toys and baby products, wearing comfortable

Stratified cutting techniques for the tempering glass, makes watch more stereoscopic, anti-scratch, anti-broken

Fantastic design for watchface and UI, makes watch more cool

Real 340 mAh high power polymer battery, stand by >5 days, normal use > 1 days (it depends on your real time using)

Interesting and powerful functions such as pedometer, sleep analysis, sedentary alarm, caculator, heart rate, remote camera, wake up screen, anti-lost etc. Makes you have a good sports habit

Language:English, French, German, Spanish,Portuguese, Italian, Netherlands, Russian, Polish, Turkish,Thai, Veit Nam, India, Indonesian,Arabic,Hebrew
Note:
Wearabledevicesmonitorshumanactivitiesthroughelectronicsensors,andtheyareattheconsumerelectuonicslevel.It'snormalforcertaindeviation.Theusershouldtreatdataobjectively.
1.Itcan not use Bluetooth headphones.
2.Pleasedonotcomparedtohospitalequipmentaboutreading,itisNOTamedicaldevice
3.Beforeusing, you can watch the video in our listing.
4.This smart watch is not waterproof, please don't wear it take bath or under rain.
5.If you have any problem, please contact our service center.
Feature 1:
* Wonderful Round 1.3 Inch Screen
Feature 2:
* Compatible for BothAndroid and IOS Phone:Good user experience for both IOS and Android OS.Carrying ultra-high performance CUP MTK2520C,it has a fluent reaction speed under both IOS and Android OS
Feature 3:
*You will never miss the information. The Smartphone's notifications can be displayed on simultaneously.such as the notifications of incoming call.SMS.Facebook,WhatsAPP,email and other APPS
Feature 4:
*Original Watchband More comfortable and healthy.Impeccable cutting seamless connecting dull polish soft and nonhazardous TUP
Feature 5:
*Two-in-one card Slot:Side SIM/TF card slot, PATENT design for smart watches, which makes it characteristic and convenient
Feature 6:
*With the high accuracy heart rate sensor, you can know your heart rate sensor, you can know your heart rate anytime anywhere, be your own immediate health steward ,Enjoy your smart life
Feature 7:
*Smart watch can recond your steps and consuming calories while you are walking or running .You can define your goals for your steps, to improve your healthy body
Feature 8:
*Sleep Monitoring:Sleep detection intimate, automatic monitor sleep time, depth,other parameters. Analyze sleep quality.you can know your sleep quality including sleep time and sleep status , so that you can adjust your sleep
Feature 9:
*Sedentary Remind: APP set an half an hour/ 1 hour/ 3 hours, regularly remind you to walk around.Itwill alert the sedentary as your settings to ensure you have a healthy work habit.
Feature 10:
*Anti-lost: After connect the smart watch with your phone by bluetooth, if your exceeds 10 meters, both phone and watch will be alerting.Meanwhile, they can find each other easily anytime.
F&Q of Smart Watch
Q1.What kind of languages doesSmart Watchsupport?_?
A1.ItsupportsSpanish, Russian, Portuguese, Polish, Italian, Turkish; Japanese, Indonesian, German, French, Vietnamese, Hebrew, Arabic, Persian, Hindi, Bengali, Burmese, Korean, Dutch
Q2.Is it waterproof?_?
This watch belongs to life waterproof level, after surface of this watch have drop water, please wipe dry with paper towel, do not force to prevent water drop fall into the product.
Q3.Can I change the strap of the smart watch?_?
A3. No, the strap cannotbe changed. You need professional maintenance staff to replace the strap only.
Q4.Is it Touch Screen?
A4. This product have touch screen function.
Q5.Does it support SIM card orTF card or Memory Card?_?
A5.Yes, it supports NanoSIM card. TF card can be extended to 16GB.
Q6.Is there a camera on it?
A6. No, it has no camera on it.
Q7.1.Can you see Skype messages on here?
A7. After you setting allowed to inform APP on the watch side, the watch can receive the WhatsApp and Skype, etc information messages
Q8.Can you run android apps on this phone?
A8.The product is belong to the function machine, cannot support android software management.
Q9.Does it work with Spotify?
A9.This watch belongs to the function machine, cannot connect Spotify.
Q10.Can it use Bluetooth headphones?
A10.This product cannot support bluetooth headset, it is a partner of bluetooth devices.
Q11.Can you change the watch face other than the three that come with it?
A11.The product belong to function machine, can not to change the software and hardware freely.
Q12.can it works like independent cell phone?_?
A12.Only insert SIM card can use to be a as mobile phone indepently.
Q13.Does this work without a sim card if i connect it to my android phone?
A13.Do not insert SIM card also can use bluetooth to connect phone,and achieve information push bluetooth phone, but cannot support this machine itself.