-

$

56.07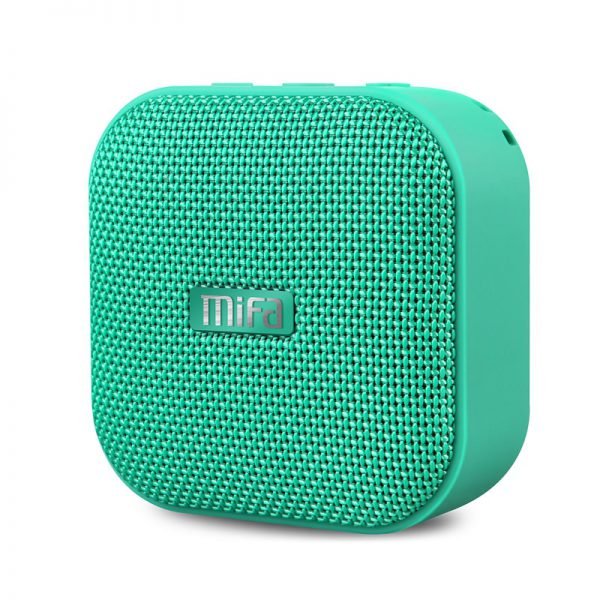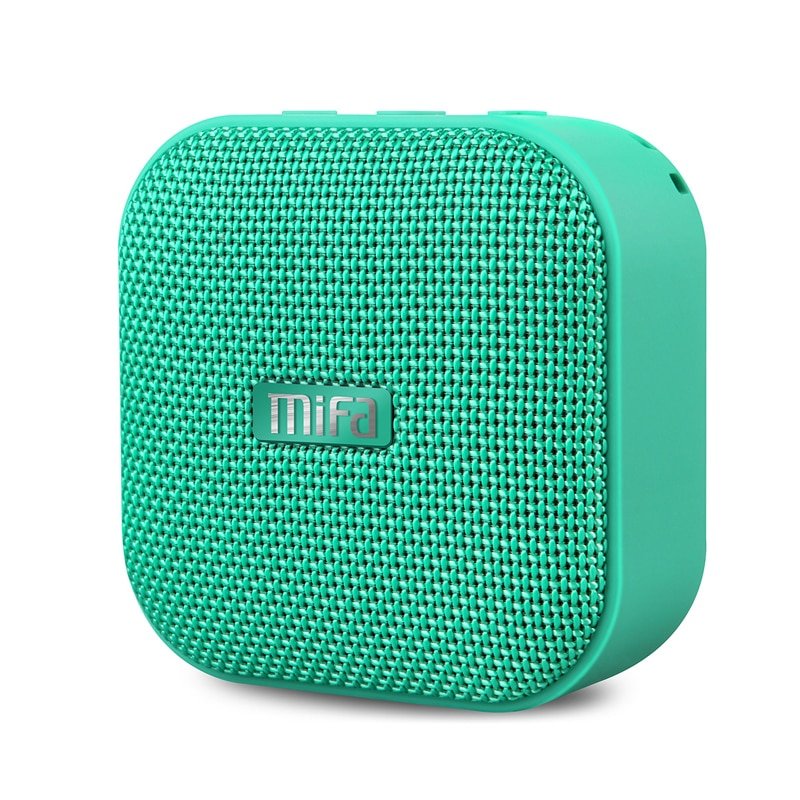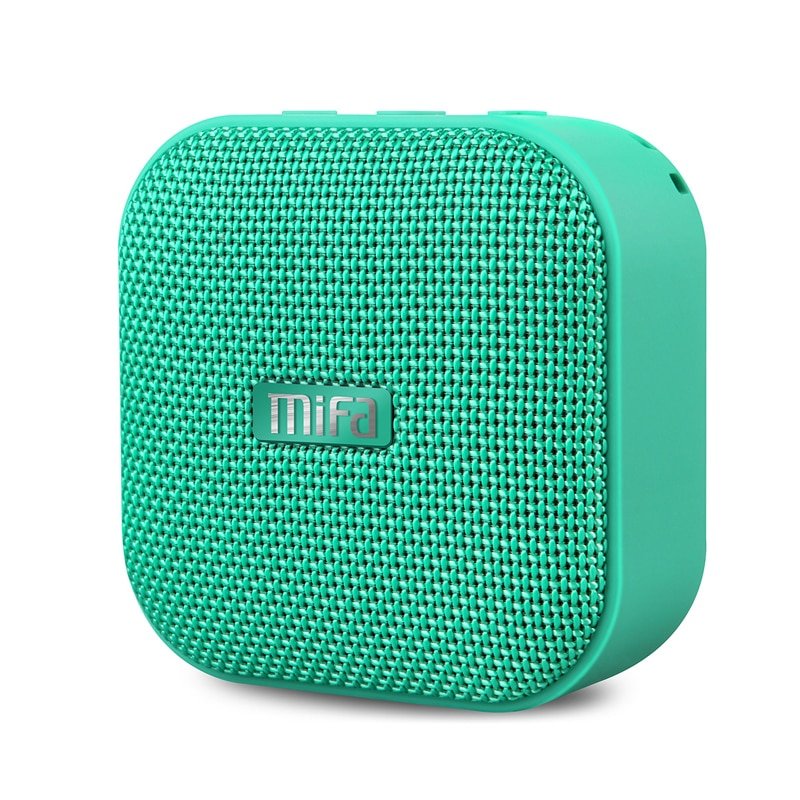 Mifa Wireless Bluetooth Speaker Waterproof Mini Portable Stereo music Outdoor Handfree Speaker For iPhone For Samsung Phones
Cabinet Material:

PLASTIC

Speaker Type:

Portable

Communication:

AUX,Bluetooth

Battery:

Yes

Feature:

None

Channels:

2 (2.0)

PMPO:

15W

Power Source:

Battery

Number of Loudspeaker Enclosure:

1

Audio Crossover:

Full-Range

Built-in Microphone:

Yes

Display Screen:

No

Intelligent Personal Assistant:

None

Support Apt-x:

No

Remote Control:

No

Model Number:

A1

Playback Function:

MP3,Other

Material:

PLASTIC

Support Memory Card:

Yes

Support APP:

No

Waterproof:

Yes

Display Screen:

No

Output Power:

5W

Frequency Range:

80Hz-20KHz

Voice Control:

No

Brand Name:

mifa

Intelligent Personal Assistant:

None
Availability:
384 in stock
$109.97
384 in stock
Compare
Description
Product Features
Impressively clear and full-range sound
Automatically connects to the last-connected device
Aux-in jack and 3.5mm audio cable for non-Bluetooth devices
Built-in Mic for hands-free calls
Supports up to 32 GB Micro-SD card
Supports MP3, WMA,WAV, FLAC, APE
Automatically turns off after 10 minutes if there is no manual operation and no device
connected
Size: 3.3 × 1.8 × 3.4 in / 85 × 46 × 86 mm
Weight: 6.2 oz / 175g (including the built-in lithium battery)
WIRELESS-EASY TO USE
Fast wireless connection with any Bluetooth device such as mobile phone, notebook, iPhone or iPad. Playing
games, listening to music with wireless connection.
Powerful bassbeyond imagination
Extended lace vortex speakers, breakthrough vortex modeling design,through pressing the airflow to reflect, strengthen the
speaker power,enhance volume 1 times compared with ordinary speaker; meanwhileuse vortex structure ductility, flexibility
increased by 50%, solve theproblem of the deformation of the low frequency motion horn, restorethe real sound quality,
small speakers cavity, brings powerful bassbeyond imagination!
All-around protection
Shatter-resistant/Water ipx67 proof/Dust proof
Wrapped with top TPU raw materials andWaterproof cloth net, super waterproof, oil resistant, internal anti-
corrosion processing structure, shatter-resistant, waterresistant, can be used outdoor perfectly.
Shatter-resistant
Wrapped with High quality silica gel material, it can withstand the rough use of outdoor environment, avoid
unintentional falls, knock against damage to the speakers.Engineering test, the model falls naturally from
two meters high, still can be used normally.
HIFI degree Lossless Musics Play
Support 32GB super capacity micro SD card playback, support APE,FLAC,WAV,WMA,MP3 etc
format audio files.
Specifications
| | |
| --- | --- |
| Speaker Type | Portable Bluetooth Speaker |
| Speaker System | Mono |
| Loudspeaker | 1.5 inches internal magnetic speaker + Passive radiators |
| Bluetooth Standard | 4.2 |
| Input | 5V / 1A |
| Battery | Built-in 1200mAh Lithium battery |
| Charging Time | About 3 hours with 1A output adaptor |
| Output Power | 5W, THD=10% |
| Frequency | 80Hz-18KHz |
| USB Standard | USB 2.0 (compatible with USB 1.1) |
| Supported Storage | Up to 32 GB Micro SD card (FAT32) |
| Supported Media Type | APE, FLAC, WAV, WMA, MP3 |
Package Contents
1 × A1 Bluetooth Speaker
1 × Micro USB Cable
1 × 3.5 mm Audio Cable
1 × Detachable Strap
1 × User Manual
FAQ
FAQ

Solutions

Not able to connect to your device

1. Restart the speaker and try again

2. If your device requires a Pin Code, please enter 0000

Keeps cutting out when playing

Check and ensure the speaker is within the operating range and there are no obstacles between the speaker and the device

Not able to play the music in Micro SD card

1. Please ensure the format of the Micro SD card is FAT32. It only supports FAT32 Micro SD card

2. Please ensure the formats of the music files are APE, FLAC, WAV, WMA or MP3
1)WORLDWIDESHIPPING..(ExceptsomecountriesandAPO/FPO)
2)S&HDOESNOTINCLUDEDUTIES,buyerswillberesponsibleforanylocaltaxesorotherimportfees.
??܉?܉?܉??
3)Ordersprocessedwithinpromiseddaysafterthepaymentverification.
4)Weonlyshiptoconfirmedorderaddresses.YourorderaddressesMUSTMATCHyourShippingaddress.
5)Theimagesshownarenottheactualitemandareforourreferenceonly.
6)SERVICETRANSITTIMEisprovidedbythecarrierandexcludesweekendsandholidays.Transittimes
mayvary,particularlyduringtheholidayseason.
7)Ifyouhavenotreceivedyourshipmentwithin39daysfrompayment,pleasecontactus.Wewilltrackthe
shipmentandgetbacktoyouassoonaspossiblewithareply.Ourgoaliscustomersatisfaction!
1)WeacceptAliWestUnion,TT,PPandpaymentprocessorESCROW.
2)Paymentmustbemadewithin7daysoforder.
Return&Refund
1)Youhave7daystocontactusand30daystoreturnitfromthedateitwasreceived.Ifthisitemisinyour
possessionmorethan7days,itisconsideredusedandWEWILLNOTISSUEYOUAREFUNDORREPLA
CEMENT.ThereareNOEXCEPTIONS!Shippingcostwillbeatbuyer'scost.
2)AllreturneditemsMUSTBEintheoriginalpackagingandyouMUSTPROVIDEuswiththeshipping
trackingnumber,specificreasonforthereturn,andyourordernumber.
3)WewillrefundYOURFULLWINNINNGBIDAMOUNTexceptshippingcost,uponreceiptoftheiteminits
originalconditionandpackagingwithallthecomponentsandaccessoriesincluded.
1)12monthsManufacturer'slimitedWarrantyfordefectiveitems(excludingitemsdamagedand/ormisused
afterreceipt).Accessoriescomewitha3-monthwarranty.
2)DefectiveitemsMUSTBEreportedandreturnedwithinthewarrantyperiod(andintheoriginalpackaging,
ifpossible).Youmusttelluswhatthedefectisandgiveusyourordernumber.WEDONOTREPAIROR
REPLACEITEMSWITHANEXPIREDWARRANTY.
Wemaintainhighstandardsofexcellence5STARS,andstrivefor100%customersatisfaction!
PositiveFeedbackisveryimportanttous.WerequestthatyoucontactusimmediatelyBEFOREyougive
usneutralornegativefeedback.Sothatwecansatisfactorilyaddressyourconcerns.