-

$

1.21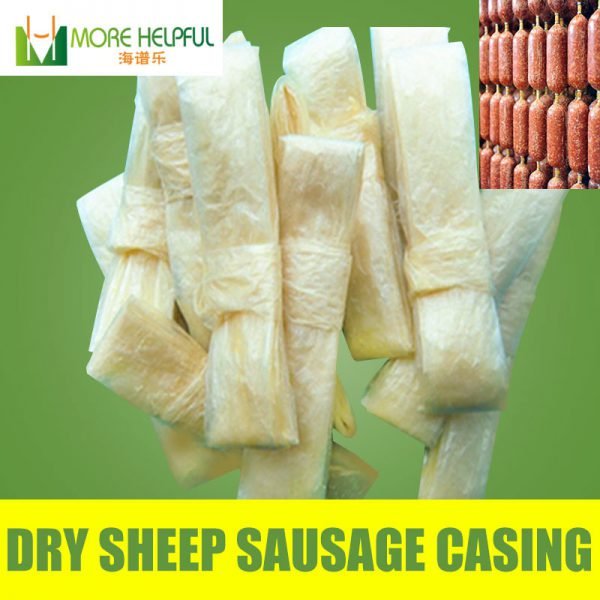 26 meter total Dry sheep casing 10pc/bag Diameter 18mm-20mm natural sheep Sausage cover,Sausage skin, free shipping
Type:

Meat & Poultry Tools

Certification:

CIQ

Feature:

Stocked,Eco-Friendly

Brand Name:

MORE HELPFUL

Meat & Poultry Tools Type:

Basters

Model Number:

18mm-20mm

Material:

sheep sausage casing

Length:

2.5-2.6m/pc;10pc/bag

weight:

80g/bag

filling meat:

24kg-30kg

Material:

Dry sheep casing

caliber:

18mm-20mm

name:

Dry sausage casing
Availability:
397 in stock
$24.48
397 in stock
Compare
Description
26 meter total Dry sheep casing 10pc/bag Diameter 18mm-20mm natural sheep Sausage cover
DIY sausage, meat processing in house, no chemical additives, pr

eservatives, and pigments, unique flavor of their own,Pure green natural food, the whole family's health, mother's taste!
Is this sausage casing natural?
Many friends asked us whether our casing is natural or not. There's a very easy way to judge it. You can check the apperance of the casing, and if they looks same , it will be artificial , and if every casing looks different, it will be natual. We are responsible for each clients , so our dry sausage casing is natural!
How to use :
The dry sausage casing need to put a little bit food grade oil in the tube before filling because dry casing has less elasticity than salted sausage casing.Put the casing into water in a very few seconds and then can use or it can be used after dip in water less than 3 munites
The dry sausage casing can be eaten after finish making.It will be soften after cooling and drying it. Also it will not have the taste of casing.
Some buyers mentioned it's easy to break when they fill the sausage. And they may not pay attention to the filling method or using the tube to fill the meat too fast. When stuff the meat manually, you can do it by separating some small parts. Then you use toothpicks to make the small air bubble after finish filling.
Dry Sheep Casing save in 2 to 3 years in constant temperature avoiding sunshine.
Test for dry sausage casing
Dry sausage casing has good toughness,even it's hard to break when you use hand to pull after soak,Here is a test as below:
1. A part a dry casing, and a cup of water
2. Soak in water for 15 minutes
3.After soaking, pull the casing by hand, it is not broken.
YOU TUBE GET 10 DOLLARS
1.Make a vedio review about your sausage making
2. Put the product and store link below the video
3.Sent the review by aliepress msg
4. Instant 10 dollars review for your next order
Dear friend:
5 stars + sreenshot=2 dollar off on next order
We usually use China Registered air mail to ship your products.
It will take 7 to 60 days to your address. We may ship by Epacket if you choose this ways. It will take 10 to 15 days