-

$

38.01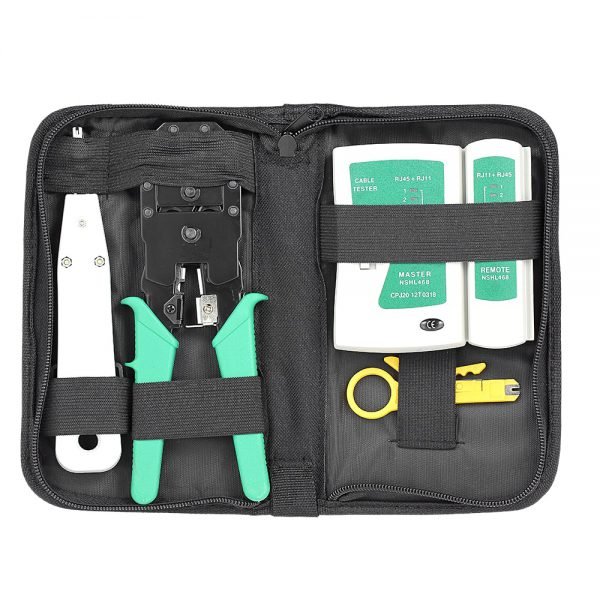 4-in-1 Network Computer Maintenance Repair Tools Kit RJ45 RJ11 Cable Tester Crimper Wire Stripper Punch Down Impact Tool Set Bag
Package:

Yes

Type:

Cable Tester

Brand Name:

KKMOON

Model Number:

C5204 4-in-1 Network Computer Maintenance Repair Tools
Availability:
941 in stock
941 in stock
Compare
Description
The Network Computer Maintenance Repair Tools Kit includes cable tester, cable crimper, wire stripper cutter and punch-down tool. A good network repair tool kit for you whether you're doing a professional industrial installation or setting up a home network.
Features:
Multi-functional: Inculdes cable tester, cable crimper, wire strippers and punch-down tool.
Applications: Designed to test and make cables of telephone, alarm, computer, intercom and more.
Tool Bag: A handy tool bag makes it convenient to store and organize all the tools in order.
Cable crimper is used to crimp 4P/6P/8P crystal connectors; suitable for Cat5, Cat5e and Cat 6 cable with 8P8C plugs.
Cable Tester is used to test RJ45 and RJ11 network cable; test correspondingly cables 1, 2, 3, 4, 5, 6, 7, 8 and ground.
Note:
The network tester battery (1 * 9V Battery) is not included.
Specifications:
Material: Durable Hard Metal and Plastic
Cable Tester Size: Approx. 10.5 * 10.2 * 2.6cm / 4.13 * 4.01 * 1.02in
Cable Crimper Size: Approx. 19.5 * 5.3cm / 7.67 * 2.08in
Punch Down Tool Size: Approx. 17.7 * 3.2cm / 6.96 * 1.26in
Wire Cutter Size: Approx. 9.0 * 2.6cm / 3.54 * 1.02in
Tool Bag Size: Approx. 21.2 * 12.7 * 4.5cm / 8.34 * 5.00 * 1.77in
Package Weight: 572g / 1.26b
Package List:
1 * Cable Crimper
1 * Cable Tester
1 * Wire Stripper Cutter
1 * Punch Down Tool
1 * Assortment Tool Bag
1 * Manual for Networl Tester