-

$

92.13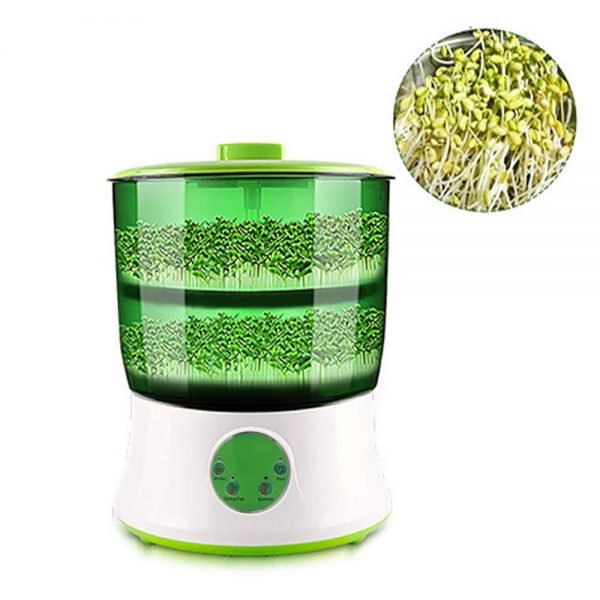 Bean Sprouts Maker household Upgrade Intelligent Large Capacity Thermostat Green Seeds Growing Automatic Sprout Machine Biolomix
Capacity of Work Bowl (Cup):

2 layers

Brand Name:

Biolomix

Material:

PLASTIC

Model Number:

Biolomix Bean Sprout Machine

Certification:

ce

Voltage (V):

220V

Power (W):

20W

Function:

Bean Sprout Machine
Availability:
9539 in stock
9539 in stock
Compare
Description
Bean Sprouts Maker household Upgrade Intelligent Large Capacity Thermostat Green Seeds Growing Automatic Sprout Machine Biolomix
Features:
Food grade ABS material, green & healthy
Give good bean sprouts in just 3 days
Save electricity with PTC heating
Regulate temperature, pressure and humidity for thicker bean sprouts
A short circuit protection, safe for use.
Prevent water spillage with automatic drainage spill water
Eliminate the hassles of changing water with fully automated water recycling system
360-degree sprinkler, to prevent uneven germination of beans
3 different seasons modes(Spring/ Autumn, Summer, Winter), you can make your own bean sprouts all over the year
2 layers design, save electricity, time and money, 1 machine = 2 × normal single layer machines
Convenient and easy to sprout your own at home.
Usage:
1. Add water to the pan bottom until high water level.
2. Connect long water pipe and water pump outlet completely,to confirm that the cover can cover properly.
3. Put trays into the nurture container.
4. Put seed down to the tray. Pick those bad beans out. (grains or beans should be soaked in water for 1-2 hour before they are put into the machine)
5. Put the spray head on the long water pipe.
6. Close the nurture cover and fabric cover on the unit to prevent exposure to light nuts.
7. Click the power button and choose one season button.
(Note: When the temperature is below 15???, recommended winter file.
When the temperature is between 13-25???, recommended spring/autumn file.
When the temperature is above 25???, recommended summer file.)
8.Leave for 3-4 days or as needed. Air temperature will be watered as we choose.
Specifications:
Product Name: Bean Sprouts Machine
Color: Green
Body Material: ABS(Acrylonitrile Butadiene Styrene) Plastic
Dimensions: 260 x 370mm(Diameter x Heigth)
Power Cord Length: 80cm
Plug: EU Plug
Rated Voltage: 220V 50Hz
Power: 20W
Pump Power: 8W
Bean Sprouting Time: 2.5-4 days
Layer: Double Layers
Package Included:
1 x Bean Sprouts Machine