-

$

8.36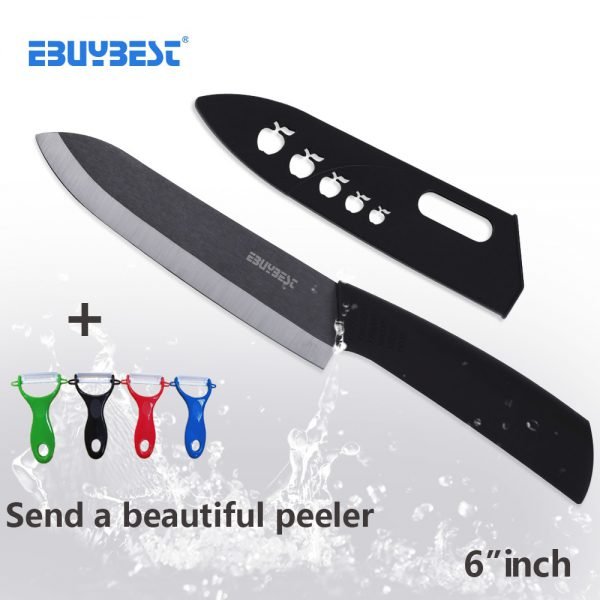 Kitchen Ceramic Knives 3 4 5 6 inch Chef Black Zirconia Ceramic Single Knife Paring Fruit Veg Meat Kitchen Cooking Knife
Type:

Knives

Certification:

CE / EU,FDA

Material:

Ceramic

Model Number:

HH-03456

Feature:

Stocked,Eco-Friendly

Brand Name:

EBUYBEST

Knife Type:

Chef Knives

Color:

Black

Material:

Ceramic

Funtions:

Paring Knives / Slicing Knives

Funtions1:

Utility Knives / Vegetable knives

Handle material:

ABS

Size:

Ceramic knives 3

Blade color:

Black

Is_customized:

Yes

Size 1:

Ceramic knives 4

Size 3:

Ceramic knives 6
Availability:
799 in stock
$26.95
799 in stock
Compare
Description
Kitchen Ceramic Knives 3 4 5 6 inch Chef Black Zirconia Ceramic Single Knife Paring Fruit Veg Meat Kitchen Cooking Knife.
Good news
In order to meet the Once a year Goddess Festival, March 8 ~!
Now shop to do the following activities
Buy one get one, buy more to send, a limited number,While supplies last~!
Color random send, if you like the color, you can leave a message.
Ceramic knives used in modern kitchens have a number of advantages that metal knives can not match:
1, high quality.

Ultra-high hardness, high temperature, corrosion-resistant, sharp, hard to wear, never rust. Stainless steel and other metal knives cut the food, will destroy the natural taste of food, the use of ceramic knives will not have this phenomenon;
2, health

. Made of biomedical materials, containing no heavy metals such as nickel and chromium. Contact with the skin does not produce allergies. Strong chemical stability of ceramic materials, acid and alkali, will never rust discoloration. No chemical reaction with the food, to keep the original fresh food, delicious. Blade after 1700 ??? high temperature sintering, all dense, non-porous, non-magnetic. Not sticky when used, easy to clean and antibacterial;
3, practical:

high-tech achievements, the blade has a very high hardness. Its wear resistance is 60 times the metal knife, almost never wear, remove the need to sharpen the trouble. Specially designed blade, extremely sharp. No matter how you handle some fruits, vegetables, or meat, you can maintain their tax benefits without any sticky knife. Ergonomic design of the easy grip handle, so you feel more relaxed, safe and comfortable. Fashion: sleek, pure, jade texture, adding noble enjoyment. Ceramic knife blade will not be acid, fruit juice, salt, oil and other substances erosion, even in the king of water boiled a few small
Antibacterial ceramic knife will not have any change;
4, use:

love their own DIY food and Western people, this is your perfect helper Oh. Use it to cut fruits, vegetables, meat, and desserts like bread, cakes and more. With ultra-high hardness, high wear resistance, and corrosion will never rust, non-conductive, non-heat transfer, non-magnetic, sharp edge, white and smooth surface, the use of easy and effortless, non-sticky viscous liquid, easy to clean Features
5, Packaging:

ceramic knife packaging gift equipment, packages and other products to choose from, whether living or giving relatives and friends are healthy, stylish taste of choice;
A product must have its own advantages and disadvantages, the same ceramic knife, because the ceramic knife is made of zirconia sintered from the nature of the raw materials of its product determines its hardness is 9, but relatively brittle.
1, In the cutting of the process do not twist the knife;
2. Do not use ceramic kitchen knife cut frozen (or fully thawed) foods, raw cakes with flesh and fish, crabs and other hard objects;
3, please use extra attention on the blade of the knife, the blade is extremely sharp;
4, please stay away from children, the kitchen knife into the child can not come into contact with local custody, in order to avoid accidental injury;
5. Use a wooden or plastic chopping board and avoid use on stone chopping block;
6. Do not let the knife throwing knife broken at high altitude;
7. Do not use knifed, chop, knock, pry, throw and hit, do not use the knife when the lever;
8, the ceramic knife on the holder, knife block or other stable environment;
9. Do not try for yourself Brothers;
10. Do not put in place the knife away from the fire source too close to avoid plastic knife handle so the deformation;
11, the blade portion is dirty, stained, etc. Available kitchen soaked with bleach. Do not wipe clean with a metal ball, etc., may be due to the role of lead metal blade black powder.