-

$

35.72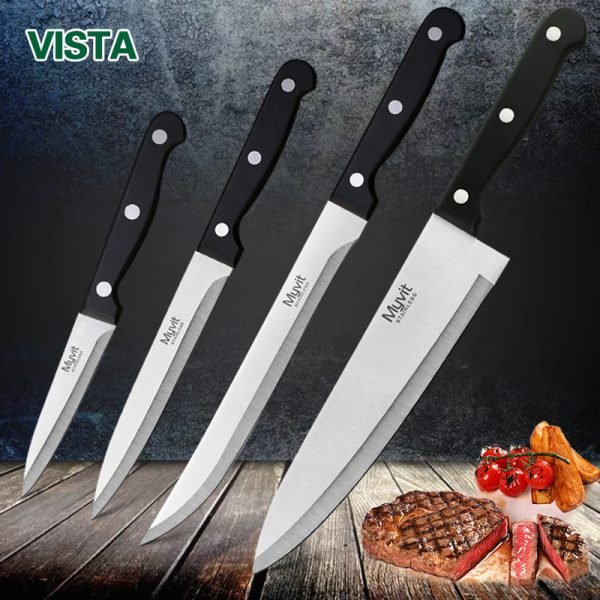 Kitchen Knives Stainless Steel 3.5'5'8' 3CR13 Multifunctional Japanese Style Fruit Paring Bone Knife Meat Cleaver Kitchen tool
Type:

Knives

Certification:

CE / EU,FDA,EEC,LFGB,SGS,CIQ

Model Number:

V5MK-3R13-458IN-SET

Feature:

Stocked,Eco-Friendly

Material:

Stainless Steel

Brand Name:

MYVIT

Knife Type:

Utility Knives

1 suitable for::

For meat and fish

2 suitable for::

For fruit and vegetables

3.material :

3CR13 stainless steel
Availability:
199 in stock
199 in stock
Compare
Description
———————————————————————————————————————————————————————————————————-
Products information:
Product name:

Professional japanese kitchen knife paring fruit meat cutterknif

Product merial:

Stainless steel 3CR13

Packing:

Safe packi

Packing include:

1* 32cm(knife length)*20cm(blade length)

1* 23.3cm(knife length)*12.8cm(blade length)

1* 20cm(knife length)*9.5cm(blade length)
Product Features:
100% Brand new and

high quality

professionalkitchen knife

chef knives peeling paring fruit vegetable knife.
This professional grade cutlery cimeter knife is

skillfully hand-honed

to deliver the

sharpest edge and maximum cutting performance

. This knife is carefully manufactured of

Japanese high-carbon

stainless steel.

Smooth and non-slid hang grip,more comfortable to use.

Blade stamped from cold-rolled steel; bolsterless edge for use of entire blade and ease of sharpening

Made of high quality stainsless Steel,super hardness,excellent sharpness.

Not any taste or strange smell

will be left on the blade,healthy and environmental friendly.
Thoughtful Handle rest design conform to the principles of

ergonomics requirements

,non slid and more comfortable.
Our 3.5" 5"and ,8" stainlesssteel knives set are made from stamped knife.Stamped knifecan usually be identified by the absence of a bolster. Stamped blades are cut into their shapes fromcold-rolled pieces of steel and then ground, tempered, and sharpened. Creating them requires manyless steps than forging and results in lighter, narrower blades.Some professionals prefer the thicker, heavier forged blades, but many pros, who spend much of their day cutting and slicing, enjoy a lighter knife since it'sless fatiguing and easier to manipulate at speed
Our 8" inch knife is an excellent choice formost butchering work, the breaking knife is used to break down large quarters intosmaller roasts and pieces.it is also a good friendtoslice meats, poultry, and seafood.
3.5"and 5"inch paring knife is generallyfor small cutting jobs and peeling of vegetables or fruit.The blade size is usually from three to four inches. Choose the shape and size to fit your hand. Since this is one of themore versatile knives, owning more than one is recommended.