-

$

14.00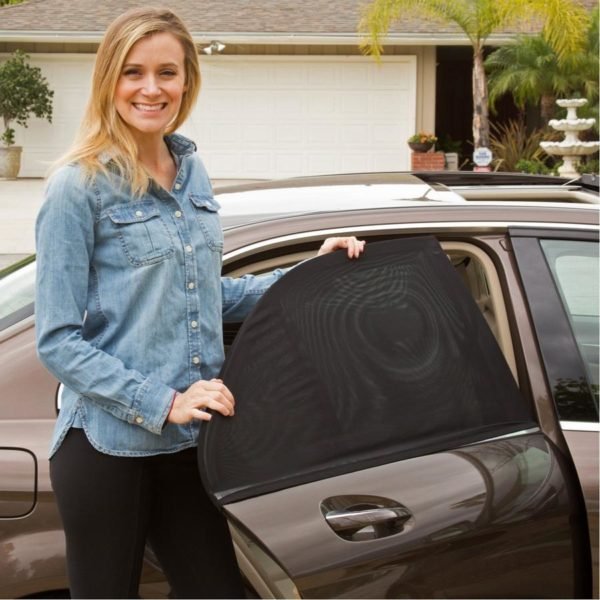 UV Protected Car Sun Shades – Buy 1 & Get 1 Free
🎁🎁 Buy 1 & Get 1 Free, worldwide free shipping. 🚚
🔥50% OFF Promotional offer, expires soon.
✅ Protect child from direct sun.
✅ Prevent mosquitoes and bug getting inside car
✅ Arrange personal meeting inside your car
✅ Block UV Light and direct sun rays
✅ Decrease car temperature by 40%
✅ Roll Down Window For Fresh Air
Availability:
147 in stock
147 in stock
Compare
Description
🎁🎁 Buy 1 & Get 1 Free as a gift 🚚
Do you have to drive in a sun and you carry a small children?
Or do you want to make your passenger feel relax and comfortable by providing fresh air?
Then "AUTO SUNSCREEN" is a solution for you
—————————————————————————————
A very convenient and practical accessory for protecting children and rear-seat passengers from harmful UV rays.
It is easy to install , disassemble and convenient to carry. Its double mesh layer doesn't hinder the beautiful
scenery outside the car nor creates the problem for window raising and lowering.

Features:
1. Protects children and rear seat passengers from glare and sunburn as well
as maintain the see-through visibility of beautiful scenery outside the car.
2. Enhances privacy and blocks strong ultraviolet radiations.
3. Reduce fuel consumption caused by air conditioning with its use.
4. Prevent mosquitoes and bug getting inside car.
❅Best Heat-Insulating Solution for Kids
There are two types of UV light that can harm your skin, UVB radiation will cause sunburn and contribute to skin
cancer, while UVA rays absorb deeply into the skin and cause wrinkles and premature aging. Especially when we
drive for a long trip in summer, exposed to UV rays is easy to form tan lines. Not mention the little delicate
baby, and it is imperative to find an efficient solution to keep the little boys and girls from shinning
sunlight.
Easy Install
– Unfold the sunshade and slide over top of door frame
– Pull it down to cover entire window and smooth the wrinkle
– Peel off the adhesive then stick it on inside of the door
– Tighten the sunshade by sticking it together.
User Tips
– Not for cars with sliding doors or without frame.
– Please allow slight measurement deviation for the data.
– Once fitted, the shade may be easily moved, please use the tape to keep it firmed.
PACKAGE WILL INCLUDE:
1. Car Window Sun Shade & 1 FREE! (Total 2 Shades)
2. Stretching: ~110*54cm max. or 23.3″*20.3″*46.8″ max
SHIPPING INFORMATION:
Item(s) will be shipped within 3 business days after receipt cleared payment. A Shipping Confirmation e-mail will be sent to you with tracking number once dispatched.
– Average postage time is 5 to 18 days to United States, Canada, United Kingdom, Australia,New Zealand and Most Asian Countries
– Normal postage time is 7 to 20 days to Western Europe and rest of the world.
Item Type: 

Window Foils & Solar Protection

Color:

Black

Model Number: Car Interior Side Window Curtain
Material: Black Mesh Cloth
Suitable Car: Universal
Suitable for: Side Window
Installation: Plastic Suction Cups
Features 1: car windscreen sunshade
Features 2: windshield sunshade
Features 3: car sunshade
Features 4: car window sunshade