-

$

231.36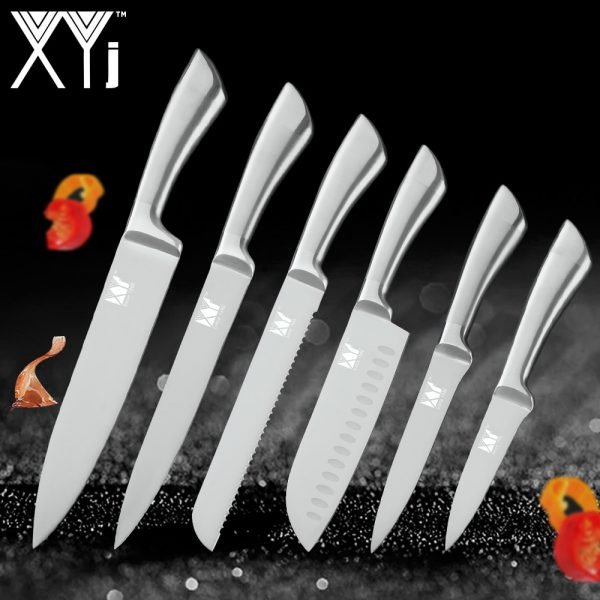 XYj Kitchen Stainless Steel Knives Accessories Paring Utility Santoku Chef Slicing Bread Stainless Steel Knives New Arrival 2019
Type:

Knives

Certification:

CE / EU,FDA,EEC,LFGB,SGS,CIQ

Brand Name:

XYj

Model Number:

103

Material:

Stainless Steel

Knife Type:

Chef Knives

Feature:

Eco-Friendly

Knife Size:

3.5 inch, 5 inch, 7 inch, 8 inch, 8 inch, 8 inch

Knife Type:

Paring, Utility, Santoku,Chef, Slicing, Bread knife

Knife Blade & Handle Design :

Seamless Welding

1 Suitable For:

For Meat And Fish

2 Suitable For:

For Fruit And Vegetables

3 Suitable For:

Meat Cutter

Style:

European Style / Simple Modern Style

Details1:

Multi Cooking Tools

Details2:

Stainless Steel Kitchen Knives

Santoku Kitchen Knife Style:

Japanese Style
Availability:
294 in stock
294 in stock
Compare
Description
A. (6 Pcs Set) Package includes:
1 * 3.5 inch Paring Knife
B. (4 Pcs Set) Package includes:
1 * 3.5 inch Paring Knife
C. (3 Pcs Set) Package includes:
Features:
??ӕ?? EASY TO HANDLE & MAINTAIN, Our classic lightweight knives is ergonomic handles fit perfectly in your hand to maximize control and ensure comfort when cutting, slicing, mincing and chopping all foods & cakes. These handles are a solid one piece nice design.A solid one piece stainless steel design so you don't have to worry about handles falling off, will fit your hand nicely to ensure maximum control and comfort whether you're cutting, mincing, chopping or slicing!
??ӕ?? HIGH-GRADE STAINLESS STEEL: Made from the highest grade stainless steel materials, these knives are designed for long-lasting and safe use that is bound to impress you. Just be sure to dry them with a napkin or a towel as soon as you're done handwashing them to prevent rust and keep them as mint as possible for as long as possible!
8 inch Knife Holder Recommendation! Click To Buy!