-

$

16.20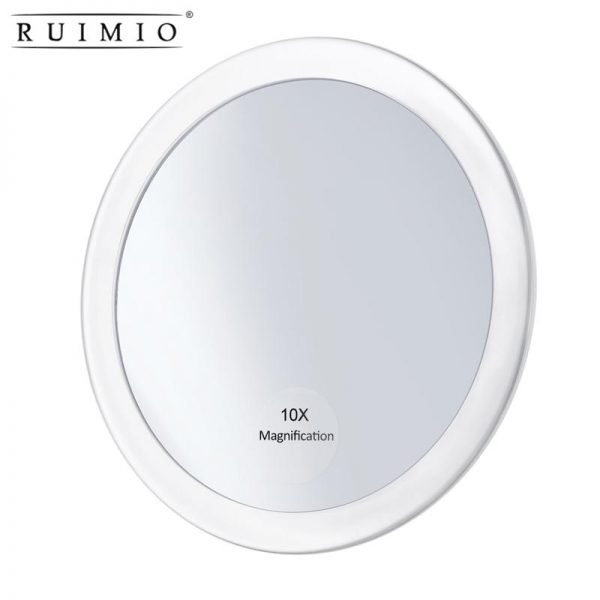 Magnifying Round Mirror Make Up Folding Pocket Cosmetic Mirror Magnification Compact Mirror with 3 Suction Cups 5.9 Inch
Item Type:

Makeup Mirror

Material:

ABS, glass, PS

Model Number:

2441742

Brand Name:

RUIMIO

Size:

15 x 15 x 2 cm
Availability:
9283 in stock
9283 in stock
Compare
Description
Description

Want to have delicate makeup that looks natural and flawless? Want to keep a good look for your dating or important meeting? I guess this 10x magnifying vanity mirror will be of great help for you! This 10x magnifying round mirror has an elegant design with foldable function. The perfect 10x magnification help you see even the tiniest details while doing fine make-up, lining eyelids, trimming eyelashes and removing acne, etc. The three suction cups at the back ensures strong suction force on smooth, dry and clean surface for handy use for bathroom counter or dresser. Great makeup vanity mirror for both men and women.
Feature
– Color: White
– Material: ABS, glass, PS
– Size: Approx. 15 x 15 x 2 cm / 5.9 x 5.9 x 0.78 inch (L x W x H)
– NOTE: 10X magnifying glass. Please use at close range for about 15cm. Youreyes will feel uncomfortable when used from a great distance.
– STRENGTHENED GLASS. The glass of the mirror is much thicker than most mirrors in the market. The mirror frame adopts eco-friendy PS material with sturdy construction, which is impact-resistant to protect the mirror from breaking.
– 10X MAGNIFICATION MIRROR. Offers a clear view of your hair and makeup to avoid missing every detail for a perfect natural makeup. Perfect for makeup application, tweezing eyebrows, putting in contacts, etc.
– FOLDABLE AND COMPACT DESIGN. The mirror is folding and with mini size, which will be easy to fit into your purse, wallet or handbag for great portability and practicability for travelers and office workers.
– STRONG SUCTION. With 3 suction cups on th back, easily attaches to any flat, smooth and clean surface with great suction force and freely moves on the surface, not easy to fall off.
– WIDE APPLICATION. Applicable for mirror, ceremic tile, glass, metallic lacquer, stainless steel and other panels alike.
Precautions
– Only use at close range.Pleaseuse a soft cloth to wipethe lens.If there is any oil or dirtyon the frame, you can use a small amount of toothpaste to wipe gently.
– For safety reasons, please make sure that the suction cup is fully affixed and then let go.
– This is nota toy, so please stay away from childrenandput in the place where they can't touch easily.
– Please do not place it under high temperatures, so as not to make sucker deformed.
Packing list
1 x 10x Magnifying Round Mirror Make Up Mirror Folding Pocket Cosmetic Mirror Magnification Compact Mirror with 3 Suction Cups 5.9 Inch (White)
1 x paper package box